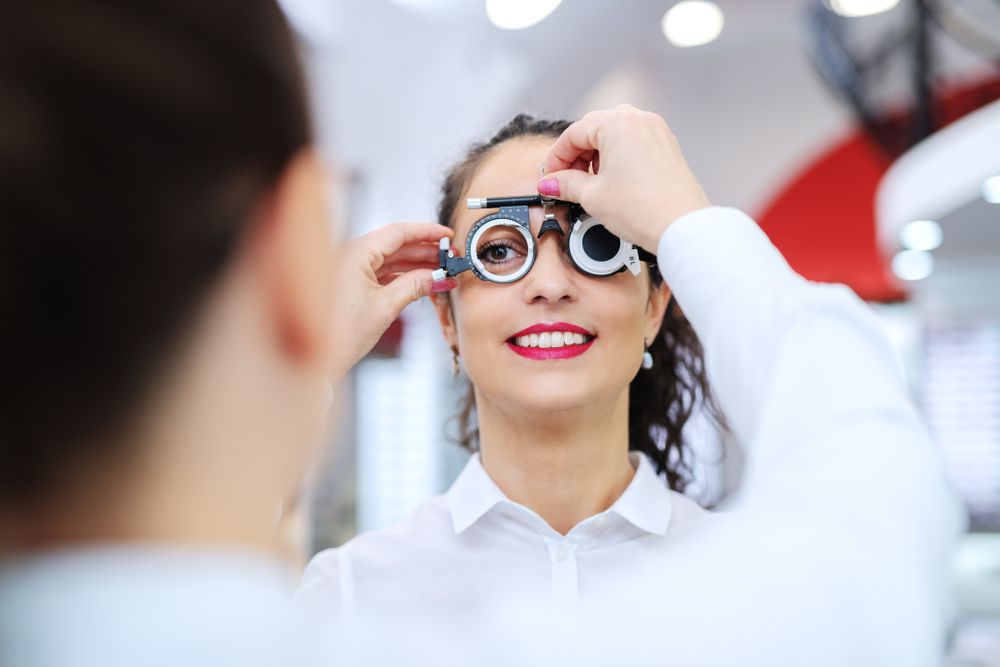 Refractive eye conditions can be frustrating and inconvenient. They occur when the light that enters your eye doesn't hit the retina at the back of your eye properly, meaning that the image that it sends your brain is slightly mixed up and your vision appears blurred. In the past, patients had no choice but to rely on glasses with prescription lenses or contact lenses to help them see more clearly. Unfortunately, glasses are fragile and can break easily, plus they limit your ability to both participate in certain activities and see clearly. And that's if you remember to take them with you when you leave the house! Contact lenses are fiddly, expensive and many patients simply don't like wearing them. Fortunately, there is another option – LASIK laser vision correction surgery.
LASIK is a very popular treatment that enables the cornea, which is responsible for refracting light, to be reshaped using laser technology. In doing so, the light can be refracted onto the retina properly and your vision will significantly improve.
If you have decided to undergo LASIK laser eye surgery to correct your refractive eye error and reduce or eliminate your need to wear glasses or contact lenses you will first need to undergo a consultation. Consultations form an essential precursor to any medical or optical procedure and LASIK is no different. Here is what you need to know about what you can expect from your LASIK consultation appointment here at our offices in Amarillo, TX.


What will be discussed at my LASIK consultation?
In order to truly assess whether or not you are a suitable candidate for LASIK laser eye surgery, you will need to undergo a series of tests and assessments. In addition to this, you will need to be prepared to discuss your full medical and optical history. This is because there are certain medical conditions, such as diabetes, that may mean that LASIK laser vision correction is not the best option for you. There are also certain medications that can have an impact on the ability of your eyes to heal properly following the surgery.
Some of the tests that you will undergo may seem familiar, since you will have them performed when you attend your regular eye appointments, and others you may not have come across before. However, they are all designed to comprehensively ensure that LASIK is the best choice for your vision correction and to determine what corneal changes need to happen to be able to achieve this. These include:
- Checking the ability of your eyes to focus and your quality of vision.
- A high-resolution scan to evaluate the cornea, tear film on the surface of the eyes and the health of the front of the eye. It also provides detailed information about the thickness, shape, and curvature of the cornea.
- Digital images that are designed to evaluate the health and function of the retina.
- Screening for conditions including glaucoma, macular degeneration, and diabetes amongst others.
In addition to these assessments, your LASIK surgeon will speak to you about your expectations for the procedure. Good laser eye surgery candidates have realistic goals for the procedure, such as reducing the need to rely on eyeglasses or contacts. Although the procedure can transform your vision, it is not necessarily able to guarantee that you will never need prescription eyewear in the future.
Finally, you will be given the opportunity to ask any questions that you have and, if you have your candidacy approved, you will be given very specific information about what the procedure will entail, how you should prepare and what you should expect afterward.


How long will my LASIK consultation last?
In most instances, a LASIK consultation will take between two and three hours. This will give our expert team the opportunity to do a truly comprehensive assessment and make a recommendation for LASIK based upon the information that we have learned.
If you are ready to schedule your LASIK consultation with our experienced and skilled optometry team, please contact our clinic in Amarillo, TX today by calling 806-304-0900.